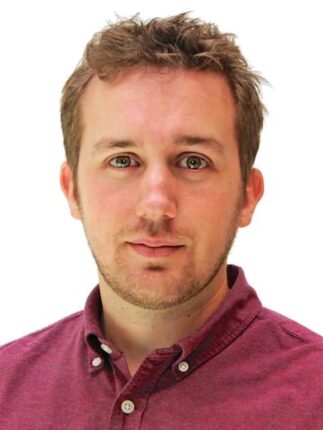 Todd K. Hyster
Research Area:
Contact:
Todd K. Hyster
Professor of Chemistry
[email protected]
Frick Laboratory, 285
609-258-5042
Faculty Assistant:
Research Focus
Enzymes are ideal catalysts for sustainable chemical synthesis. Using directed evolution, their function can be optimized to provide unrivaled levels of catalyst efficiency and reaction selectivity. However, enzymes catalyze fewer reactions than small molecule catalysis, limiting their use in chemical synthesis. The Hyster group is broadly focused on developing strategies that enable enzymes to catalyze reactions that are currently unknown in nature. Then, using the tools of directed evolution, these catalysts can be optimized to solve long-standing reactivity and selectivity challenges in chemical synthesis.
A central aim of our work is to establish visible light irradiation as a general strategy for enabling enzymes to catalyze synthetically valuable free radical reactions. Photoexcitation is an under-utilized mechanism of providing individual proteins the necessary energy to carry out a chemical reaction. For instance, nature uses light to drive the photosynthetic electron transfer chain and modulate proteins' conformations. However, only three enzymes, DNA photolyase, protochlorophyllide reductase, and fatty acid photodecarboxylase, use photonic energy to power their catalytic function.
In contrast, the excitation of small-molecule catalysts and complexes is a common mechanism for generating radical intermediates in chemical synthesis. We recognized that the redox potential formalisms used by synthetic chemists to understand and design photoredox reactions could also be applied within the context of biocatalysis. By examining the redox potentials available to biological cofactors in their ground and excited states, we can predict the types of substrates that can function as radical precursors within a protein active site. This approach enables enzymes to catalyze free radical reactions, a family of reactivity that has been challenging to control using small molecule chiral catalysts.
---
Honors
2023 National Fresenius Award
2022 Mitsui Chemicals Catalysis Science Award for Creative Work
2022 Buck-Whitney Award
2022 Arthur C. Cope Scholar Award
2021 Junior BIOTRANS Award
2021 Amgen Young Investigator Award
2021 Eli Lilly Grantee Award
2018 Alfred P. Sloan Foundation Research Fellow
2017 Searle Scholar Award
---
Selected Publications
G. Page, J. Cao, D. G. Oblinsky, S. N. MacMillan, S. Dahagam, R. M. Lloyd, S. J. Charnock, G. D. Scholes, T. K. Hyster "Regioselective Radical Alkylation of Arenes Using Evolved Photoenzymes" J. Am. Chem. Soc. 2023, 145, 11866-11874.
Fu, T. Qiao, J. M. Carceller, S. N. MacMillan, T. K. Hyster "Asymmetric C–Alkylation of Nitroalkenes via Enzymatic Photoredox Catalysis. J. Am. Chem. Soc. 2023, 145, 787-793.
Fu, J. Cao, T.-Z. Qiao, Y. Qi, S. Charnock, S. Garfinkle, T. K. Hyster "An Asymmetric sp3-sp3 Cross-Electrophile Coupling Using Biocatalysis" Nature 2022, 610, 2449-2451.
Ye, J. Cao, D. G. Oblinsky, D. Verman, C. K. Prier, G. D. Scholes, T. K. Hyster "Using Enzymes to Tame Nitrogen-Centered Radicals for Enantioselective Hydroamination" Nat. Chem. 2023, 15, 206-212.
G. Page, S. J. Cooper, J. S. DeHovitz, D. G. Oblinsky, K. F. Biegasiewicz, A. H. Antropow, K. W. Armburst, J. M. Ellis, L. G. Hamann, E. J. Horn, K. M. Oberg, G. D. Scholes, T. K. Hyster. "Quaternary Charge-Transfer Complex Enables Photoenzymatic Intermolecular Hydroalkylation of Olefins. J. Am. Chem. Soc. 2021, 143, 97-102.
S. DeHovitz, Y. Y. Loh, J. A. Kautzky, K. Nagao, A. J. Meichan, M. Yamauchi, D. W. C. MacMillan, T. K. Hyster, "Inducing Dynamic Stereochemistry for Asymmetric Synthesis" Science 2020, 369, 1113-1118.
J. Black, A. J. Meichan, K. F. Biegasiewicz, B. Kudisch, D. G. Oblinsky, G. D. Scholes, T. K. Hyster* "Asymmetric Radical Cyclization Enabled by Electron Transfer from Flavin in an 'Ene'-Reductase" Nat. Chem. 2020, 12, 71-75.
F. Biegasiewicz, S. J. Cooper, X. Gao, D. G. Oblinsky, J. H. Kim, S. E. Garfinkle, L. A. Joyce, B. A. Sandoval, G. D. Scholes, T. K. Hyster* "Photoexcitation of a Flavoenzyme Enables a Stereocontrolled Radical Cyclization" Science 2019, 364, 1166-1169.
F. Biegasiewicz, S. J. Cooper, M. A. Emmanuel, T. K. Hyster* "Catalytic Promiscuity Enabled by Photoredox Catalysis in Nicotinamide Dependent Oxidoreductases" Nat. Chem. 2018, 10, 770-775.
A. Emmanuel, N. R. Greenberg, D. G. Oblinsky, T. K. Hyster* "Accessing Non-Natural Reactions by Irradiating Nicotinamide Dependent Ketoreductases With Light" Nature 2016, 540, 414-417.